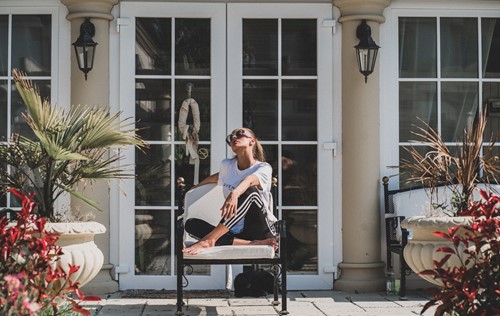 With homeowners spending more time at home, it's more important than ever to focus on outdoor living spaces. If you need an escape from everyday life, creating a personal oasis in your backyard or outdoor space can be the perfect project to prepare for warmer weather.
An oasis is meant to be a place of calm and shelter. It can also be a place of luxury where you can unwind and treat yourself after a long workday. Luckily, there are some simple ways to create a personal oasis in your outdoor living space.
Here are some ideas to get you inspired:
Prioritize privacy
Privacy is key to a truly relaxing outdoor space. High fences, hedges and screens are all popular options for creating privacy in your personal oasis.
For a lush, natural approach, try creating a natural fence with large planter boxes and tall container plants. Other outdoor furnishings such as free-standing trellises and decorative garden equipment can also create privacy while still being aesthetically pleasing.
If you have a porch or patio, hanging curtains to cover open spaces is a simple solution that adds a luxurious yet comfy vibe to your space. Keep the fabric light and airy to enjoy the sunshine, or try bold colors and patterns for a boho chic design.
Banish bugs
Unfortunately, pests can severely hinder your ability to relax and enjoy outdoor spaces. To make your own personal oasis bug-free, first identify any changes you can make to your yard environment.
For example, standing water attracts annoying insects like mosquitoes, so emptying any stagnant water is a perfect first step. Then, try adding citronella candles for ambiance and extra protection.
While it's not always possible to avoid every single critter in your outdoor living space, keeping away the worst of them will help you truly enjoy your outdoor living space.
Create comfort
Once you've taken care of privacy and pest control needs, focus on making your outdoor living space as comfortable as possible. You can accomplish this by choosing high-quality outdoor furniture and arranging it in a way that promotes relaxation.
Arrange your outdoor seating around a coffee table for casual conversation and togetherness, or lounge chairs facing out to enjoy a calming view. Add plenty of cushions and an outdoor rug to ground the space and make it truly luxurious. To help you enjoy your outside living space in any season, try adding an outdoor fireplace or fire pit into your design.
These are just a few ways to create your personal oasis in your outdoor living space. Using these ideas as a starting point, you can let your creativity flow and design the perfect place for fresh air and relaxation.