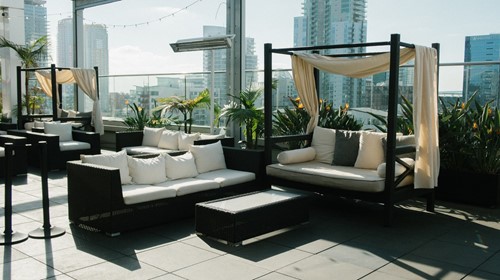 There is an overwhelming amount of excellent options for outdoor decorations. Ideas for patio furniture, adding a fire pit or even a shaded gazebo are abundant, and it can be difficult to decide where to start.
To help you get inspired, here are some of the best DIY outdoor decor ideas to enhance your yard or patio space:
Install outdoor hanging curtains
Curtains are no longer just for inside the home! The most stylish and useful curtains for outdoor living are available at a variety of home goods retailers and can withstand a wide range of weather conditions.
Consider comfortable earth tone curtains to create shade on your patio. Or, add privacy without sacrificing the sunlight by hanging airy white fabric curtains.
Create a DIY privacy screen with plants
Make a beautiful centerpiece in your backyard with a privacy screen planter. By combining a large planter box or container and a trellis, you can encourage plants to climb and create natural shelter.
Another DIY outdoor decor idea is to create a partition with hanging planters. Construct a wooden partition using scrap materials and found wood from pallets. You can hang small planter boxes or small potted plants to create a vertical garden that also serves as a natural privacy screen.
Get creative with outdoor lighting
For maximum enjoyment of your outdoor space at night, make sure to include lighting in your patio ideas. There are plenty of ways to create DIY lighting, such as lanterns with mason jars, basket chandeliers and DIY tiki torches. Hang fairy lights to add ambiance and whimsy, while also providing the light you need to enjoy your space to the fullest.
Mix and match your outdoor furniture
One of the biggest trends in patio decor ideas is to mix and match your furniture. Arrange a collection of comfy chairs around a coffee table or fire pit in varying colors and styles. This creates a cozy and eclectic atmosphere and also makes it easy to incorporate some vintage or recycled DIY patio decor into your outdoor oasis.
Whether you want to add privacy or boost the aesthetics of your outdoor living area, keep these ideas in mind to inspire your design journey.